Are we in a new decade?? Plus, my dissertation
Two updates on two different writing projects of mine: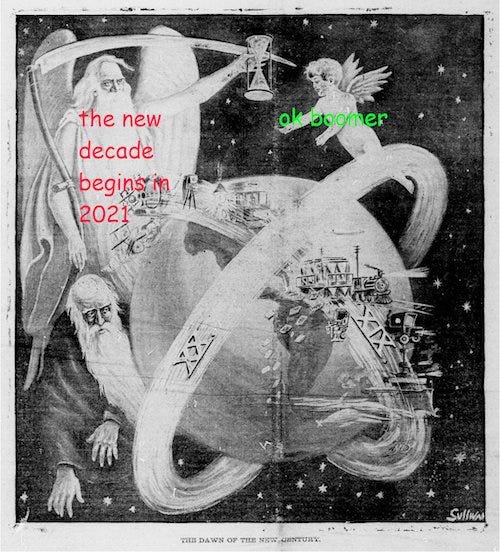 First, last Friday I published a new post:
How to Periodize History: 2020 and the Decade Dilemma
Does 2020 begin a new decade? To answer this question we must consult the Pope, the Kaiser, the census, a hockey player, and ISO 8601.
While many of you might spend a couple minutes considering this question, I spent an intense couple of weeks on it! Collecting together historical newspaper archives (including some great political cartoons), the history of the century debate, sociology and history on the idea of the decade, and two new key sources — the ISO 8601 standard and decennial census legislation — I humbly offer my own answer to the decade question. The answer might shock you!
Please read and share.
---
Second, a bit of a larger project, I defended and finalized my doctoral dissertation, capping off nine years of my PhD.
Kilpatrick, "Non-Reformist Reform for Haskell Modularity," Universität des Saarlandes (and Max Planck Institute for Software Systems), 2019.
Taken together these two projects are definitely about "types and times."